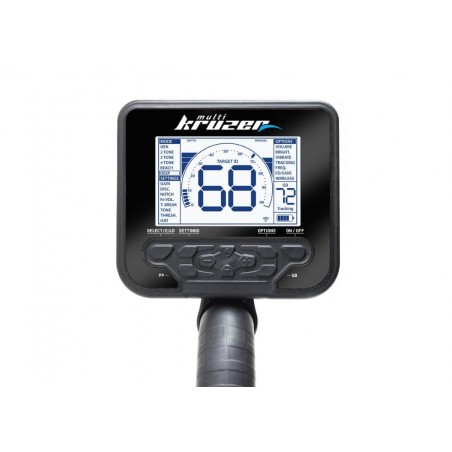  
Multi Kruzer
GET READY FOR A WHOLE NEW METAL DETECTING EXPERIENCE WITH THE NEW KRUZER SERIES!

Security policy: All products are guaranteed genuine. We do not sell counterfeit product
Delivery policy: We do not ship products. Detectors must be picked up from our Hong Kong office
GET READY FOR A WHOLE NEW METAL DETECTING EXPERIENCE WITH THE NEW KRUZER SERIES!
The Multi Kruzer will bring hunted out sites back to life by offering the best performance and depth combined with its robust and waterproof design. Are you a beach hunter? We did not forget about you, either! The Multi Kruzer features a new advanced beach mode that provides a very stable performance on the wet salt beach and even underwater.
Fully submersible up to 5 meters (16.4 ft.)
Protected from total dust ingress.
Excellent Discrimination and Unmasking Ability
Save time by detecting the targets you want while spending less time digging.
High Performance & Unmatched Depth
Uncover deep coins and relics that other detectors simply cannot detect.
Advanced Beach Mode
Very stable operation in dry sand, wet sand and underwater.


NEW E.U.D. Function
Extra Underground Depth - Detect certain type of metals masked by ground conditions and/or at fringe depths.
Fast Recovery Speed
Get ready to find out what the other metal detectors missed among trash and iron!
3 Selectable Target ID Depth Levels
Adjusts the depth level that the detector displays an ID for a detected target.
6 Search Modes
Gen (All Metal) / 2 Tone / 3 Tone / 4 Tone / Beach / Deep
2.4 GHz Wireless Headphones Included*
Enjoy wireless freedom with no latency.
Online Firmware Updates
Stay up-to-date with firmware updates (via USB on PC) and get the most out of your detector.
Vibration
Kruzer will vibrate upon detection of target! Ideal for the hearing impaired users as well as for detection underwater.
Lightweight (1.4kg / 3.0Ibs)
Well balanced - Enjoy detecting for extended hours without fatigue.
Built-in Lipo Battery**
Easily charge it with the supplied charger or a USB powerbank. Provides up to 19 hours of use.
"The Kruzer has just opened a completely new playground for serious hunters... Its aim is true and it hits like a beast... Simplicity and excellence in one machine and the ability to get wet is simply amazing. I won't leave home without the Kruzer by my side..."Henk Nel" South Africa